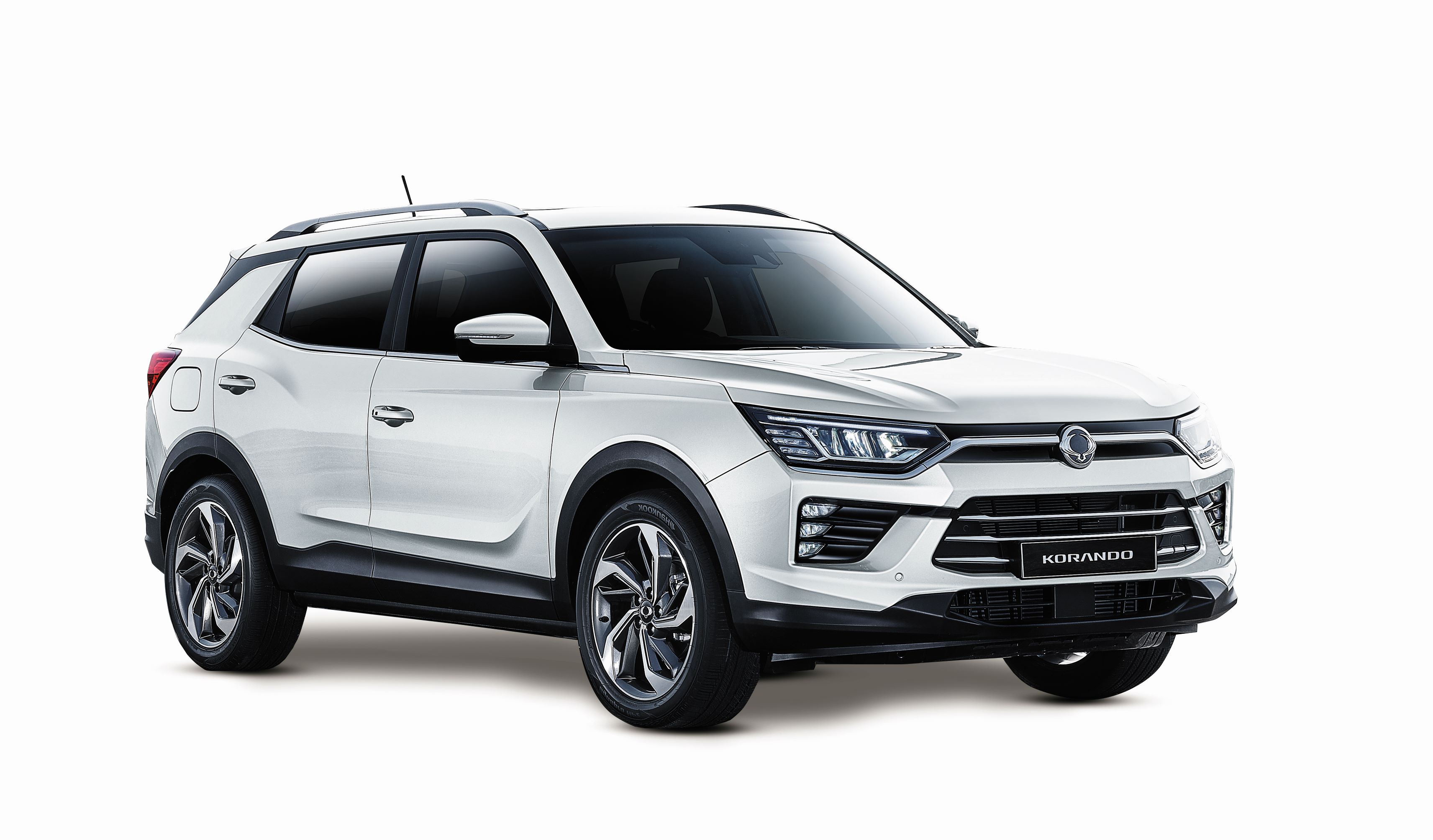 Introducing The All New SsangYong Korando!
SsangYong Motors UK has launched its all-new Korando C-segment SUV today. Premiered at Geneva Motorshow earlier this year, the all-new vehicle possesses the space and capabilities of a traditional SUV and features a whole range of enhancements to the outgoing model. It pairs new stylish exterior and interior design with advanced safety and infotainment technologies, as well as efficient new powertrains complying with future emission standards. All wrapped up with a comprehensive and market-leading 7-year/ 150,000-mile warranty.
From every aspect, all-new Korando has an eye-catching design, with powerful and striking stance that serves as a solid foundation for its superior ride and handling dynamics. Inside, the Korando impresses even further with its fully digital 'BlazeCockpit' interface and driver assistance technologies that are unrivalled in its class. Engineered for an active lifestyle, new Korando exceeds expectations by delivering spacious comfort, superior safety, class leading NVH and pure driving fun.
An evolution of SsangYong Korando design
The fourth generation Korando was the designed by the team based at SsangYong's R&D Centre in Pyeongtaek, South Korea. The studio has modernised the look of the new Korando, which features a range of updates to its sporty exterior design, stylish interior design and a whole host of added features.
Modern and urbane, SsangYong's SUV will stand apart from rivals by matching the unique preferences and needs of the millennial generation, those with growing families or active lifestyles, and with up to a 2-tonne towing capacity, it will also appeal to SsangYong's loyal, existing customers from the caravanning and towing fraternities.
The robust design character of a traditional SUV co-exists with sophisticated exterior design details, such as its striking "birds wing" front grille feature, which has become a visual identity for all SsangYong models. Its strong side lines, matched with curved shoulder lines which taper towards the rear of the car, as well as a colour-keyed bumper, rear spoiler and rear skid plate, lends the compact SUV an air of understated sportiness.
The new compact SUV brings a sense of luxury to its exterior design with multi-focus reflector LED headlights and high-power LED stacked fog-lights for visual impact, front and rear daytime running lights, and redesigned fog lamps also provide maximum visibility and enhance the SUV's light signature for a more modern appearance. Dependent on trim level, Korando offers a selection of three stylish alloy wheel designs – 17", 18" and 19" diamond cut wheels.
Inside, new Korando offers generous levels of equipment along with cutting edge design technologies. Its integrated wrap-around dashboard design is said to be inspired by the design of a classical string instrument, and at the top of the range its innovative "Blaze Cockpit" has a 10.25" full digital cluster and 9" AVN unit with a colour choice of 34 infinity mood lighting options.
Korando's sizeable interior is rich in quality materials, giving it a "soft-touch" and premium feel. The ergonomic seats have either high quality cloth, a combination of faux leather and cloth or premium leather, and are heated, ventilated, powered - dependant on trim level.
To ensure maximum space and comfort, both driver and passenger needs are taken into consideration in the design of the overall package. This is a multi-role SUV which blends style with load carrying capability - it seats 5 comfortably, with plenty of leg room and the versatility that you would expect from a modern SUV. The dimensions of the cabin are 1,350mm (w) x 815mm (l) x 889mm (h) and the load area offers up to 1248L of space in the back.
Korando's sophisticated climate control system ensures that the cabin environment is comfortable regardless of the weather conditions outside. Pollen and microscopic-sized particulate matter are trapped by the air filter while the air is treated by a cluster ioniser to create a pleasant and pristine cabin environment. When the dual zone full auto air conditioning is selected, the related information is displayed on the 8" or 9" navigation screen. Other features include paddle shift levers (with auto transmission), heated steering wheel with tilt, rake and reach, dual auto climate control and 60/40 rear split seats with ISO FIX.
Driving performance
In step with engine down-sizing seen throughout the industry, the new Korando is available with a choice of compact engines characterised by high combustion efficiency, superior power delivery and good fuel economy. Korando is available with either an uprated 1.6 Diesel engine or 1.5 GDI-turbo petrol engine.
The newly developed Euro 6D-T compliant 1.6 litre diesel engine produces 136PS max power and 324Nm max torque delivering a smooth, progressive and powerful driving experience. It's exceptionally durable and fuel efficient, the 1.6 diesel engine is the perfect choice when peak torque performance and fuel economy are a priority. It achieves a CO2 emission level of 144 (NEDC) and fuel economy of up to 48.7mpg on the WLTP combined cycle and achieves 0-62mph in 12.01 seconds.
Later on, Korando will also offer a Euro 6D-T compliant 1.5 GDI-turbo petrol engine which produces 163PS max power with and 280Nm of torque at 1,500-4,500 RPM. The vehicle and full performance stats will be available in the UK from December 2019.
Best-in-class transmission performance and reliability is achieved by applying the latest AISIN 3rd generation six-speed automatic transmission with selectable drive modes. Normal mode balances the need for fuel economy and power, this default mode is utilised for day-to-day driving and is not indicated on the dashboard. Sport mode delivers extra power, whilst Winter mode starts Korando in 2nd gear to prevent tyre slippage on icy roads. Non-4x4 models come with an auto-stop system to save fuel and lower CO2. Manual variants will arrive into the UK early 2020.
4WD system
New Korando is available with all-wheel drive, which offers superior driving stability across all types of terrain. Automatic Drive Control controls the speed of each wheel is individually monitored in real-time. If a wheel slip is detected, torque is automatically redistributed to the wheel where it is needed most, thus maximising traction over treacherous roads, and ensuring safer driving. The Lock-Mode Function, unlike Auto-Mode, increases torque delivery to the rear wheels for improved traction and stability. Above 40km/h, the system automatically switches to Auto-Mode and will switch back to Lock-Mode when the speed is reduced to 40km/h or less. Its superior braking system drives control and brake systems to inert-operate which improves traction, stability and safety.
And, new Korando offers generous approach and departure angles too with an approach of 18 degrees and departure angle of 24.5 degrees.
Hi-tech connectivity, technology & equipment
All models feature an advanced infotainment system that includes DAB radio, Bluetooth and MP3 connectivity, while Apple CarPlay and Android Auto come with the middle and top specification models, as does a rearview reversing camera. Everything is displayed on either a 9.0" screen with Tom Tom navigation on top models or an 8.0" screen on mid spec model. Other features include remote power tailgate on top models and electronic parking brake on automatic variants.
Safety
Expected to achieve a 5*Euro-NCAP safety rating, Korando has new technologies and features, ensuring excellent levels of safety, including six airbags on all models. With the high-strength steel construction, the vehicle is stiffer than its competitors, featuring 74% high density steel, which not only gives greatly improved body strength but also reduced weight.
The vehicle boasts Electronic Stability Programme (ESP), Traction Control System (TCS), Active Rollover Protection (ARP), ABS with Electronic Brakeforce Distribution (EBD), Forward Collision Warning (FCW), Autonomous Emergency Braking System (AEBS), Lane Departure Warning (LDW), Lane keeping Assist (LKA), Front Vehicle Start Alert (FVSA), Safety Distance Alert (SDA), Driver Attention Alert (DAA), and Emergency Stop Signal (ESS).
Other safety features include an emergency call system, reversing camera, alarm, immobiliser, tyre pressure monitoring system, rain sensing wipers, automatic headlamps, automatic speed sensing door locks, electronic parking brake with auto hold, front seatbelt pre-tensioners, parking aids front and rear and ISO FIX.
Noise, Vibration and Harshness (NVH)
Advanced tools and technologies have been applied to all-new Korando to suppress NVH and it now boasts some of the lowest NVH levels in its class. Its cabin noise at idle is just 44.0dB compared to the Kia Sportage at 45.6dB and its chassis vibration at idle is 95.0Hz versus 97.0 Hz on the Kia Sportage.
In a first for SsangYong, the automaker has used structural adhesives to improve monocoque rigidity, optimising noise and tonal qualities. Double-wide sealer has also been applied with melting-type plugs for improved engine and outside noise levels. Additional front and rear sub-frame mounting points have been added which act as decouplers inside the hydraulic mounts, which maximise noise reduction. Underfloor damping and additional roof paneling have added sound absorbing materials and pillar cavities are filled with a volume of sound absorbing foam – reducing noise and vibrations. Twin dynamic dampers in the rear propeller shaft and a four-point mounting system for the rear axle, also help Korando Korando attain best-in-class NVH values.
The line-up
There are four Korando models to choose from. The line-up includes a 1.5 GDI-turbo petrol engine (December 2019) entry model 2WD ELX and a 1.5 GDI-turbo petrol 2WD Ventura, which is mid-specification level. The Pioneer, which has been specifically designed for SsangYong's existing and prospect caravanning customers, is available with a diesel engine and automatic transmission in 2WD and 4WD. The top of the range Ultimate model is available as a petrol 2WD and 4WD or with the 1.6 diesel engine with automatic transmission and 4WD.
Latest News