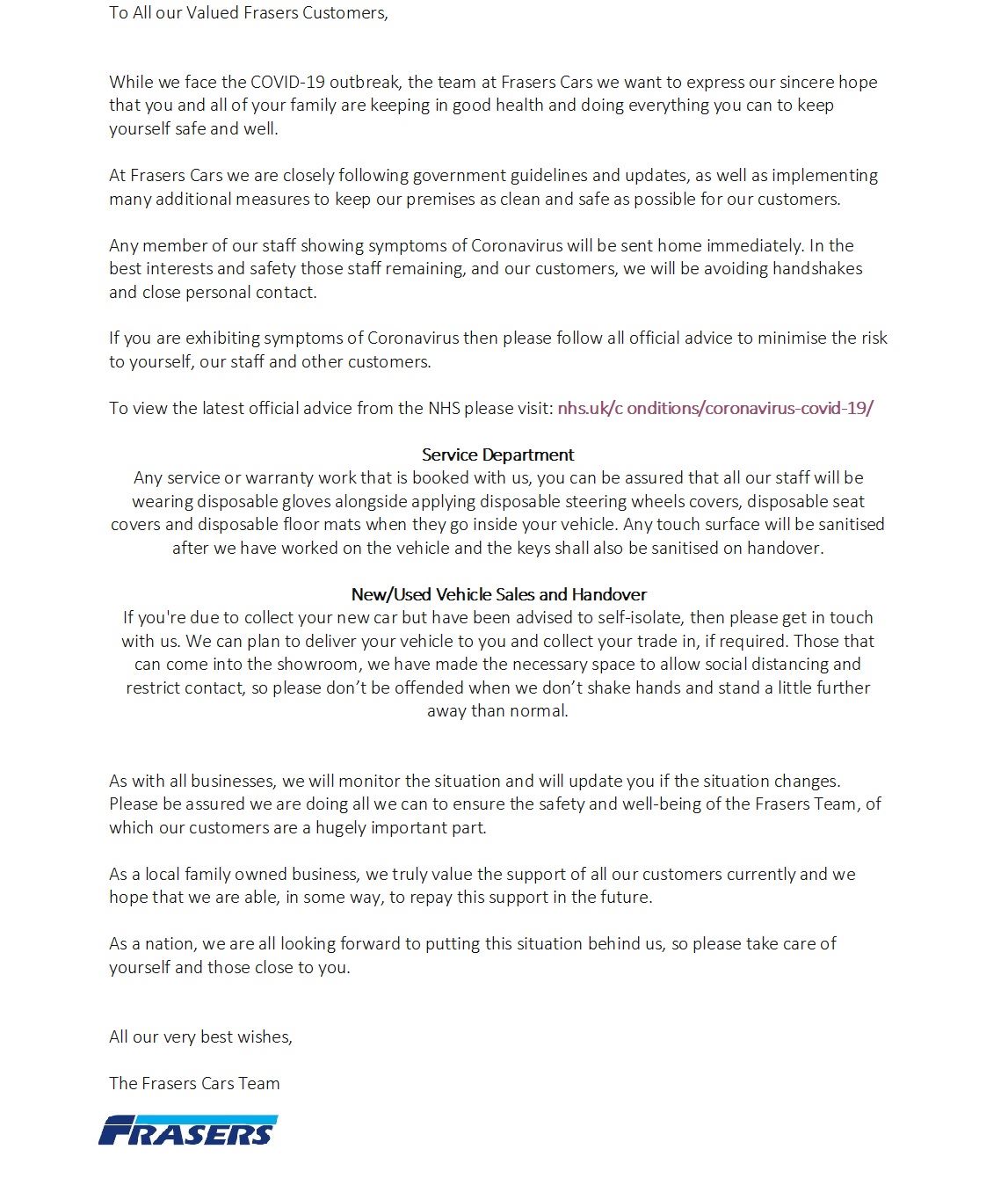 Coronavirus Pandemic
To All our Valued Frasers Customers,


While we face the COVID-19 outbreak, the team at Frasers Cars we want to express our sincere hope that you and all of your family are keeping in good health and doing everything you can to keep yourself safe and well.

At Frasers Cars we are closely following government guidelines and updates, as well as implementing many additional measures to keep our premises as clean and safe as possible for our customers.

Any member of our staff showing symptoms of Coronavirus will be sent home immediately. In the best interests and safety those staff remaining, and our customers, we will be avoiding handshakes and close personal contact.

If you are exhibiting symptoms of Coronavirus then please follow all official advice to minimise the risk to yourself, our staff and other customers.

To view the latest official advice from the NHS please visit: nhs.uk/conditions/coronavirus-covid-19/

Service Department
Any service or warranty work that is booked with us, you can be assured that all our staff will be wearing disposable gloves alongside applying disposable steering wheels covers, disposable seat covers and disposable floor mats when they go inside your vehicle. Any touch surface will be sanitised after we have worked on the vehicle and the keys shall also be sanitised on handover.

New/Used Vehicle Sales and Handover
If you're due to collect your new car but have been advised to self-isolate, then please get in touch with us. We can plan to deliver your vehicle to you and collect your trade in, if required. Those that can come into the showroom, we have made the necessary space to allow social distancing and restrict contact, so please don't be offended when we don't shake hands and stand a little further away than normal.


As with all businesses, we will monitor the situation and will update you if the situation changes. Please be assured we are doing all we can to ensure the safety and well-being of the Frasers Team, of which our customers are a hugely important part.

As a local family owned business, we truly value the support of all our customers currently and we hope that we are able, in some way, to repay this support in the future.

As a nation, we are all looking forward to putting this situation behind us, so please take care of yourself and those close to you.
All our very best wishes,
The Frasers Cars Team
Latest News